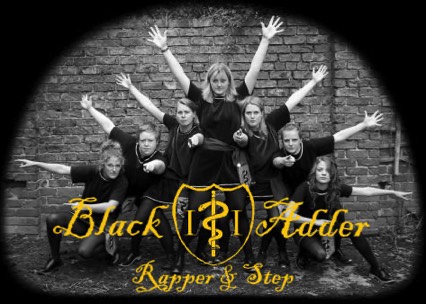 Black Adder was formed in 1990 by four Yorkshire lasses (Sally Atkinson, Kathryn Roberts, Emma Rusby and Kate Rusby) - all second generation folkies who had all been brought up dancing, singing and playing. Having spent their formative years being dragged around festivals they thought dancing needed a stir up. Black Adder went on to sport the traditions of rapper, clog step and Irish step (Kathryn being a champion Irish dancer) to a sometimes unprepared audience. Originally planning to be a 'normal' dance team, due to the personalities involved, the team soon devolved into performing the now infamous 'comedy cabaret' spots, and there lies a tale.

Cutting their teeth around festivals and dance displays the original four went out on a high representing Great Britain in Spain (along with a few bouts of Spanish Belly).

Since then more Adders have been summoned to the sisterhood along with numerous Addages (people who have been musicians). At the last count, Adders around Britain (and they do live from Devon to Newcastle!) were about 14 strong and the incarnation of the bigger style Adder in 1996 brought with it more talented dancers to make the team even better. Dancing went from strength to strength. From taking Irish dancing and fusing it with Samba rhythms, they went on to be Premier Champions at the Dancing England Rapper Tournament in 2000.


Their reputation for cabaret goes before them. Their performances have included 'large scale fish cake and chips', 'the bee ballet', 'Swan Lake: in clogs', 'dancing pantomime animals' and 'the dancing string puppets'. They have even added a twist to the traditional festival parade by donning roller skates. It is their knack of plucking the ridiculous and presenting it with the traditional that would sometimes merit counselling, but that's the thin line they walk.